Ga. Council of Community Ombudsmen
Advocate of The Year
2004 Long-Term Care Ombudsman Advocate of the Year
Penny Medhurst, SC/McIntosh Trail Program
Ga. Council of Community Ombudsmen
President's Award
CoCO's Spring Conf. 2004 President's Award
Elaine Wilson, Southwest Ga. Program
Ga. Council of Community Ombudsmen
President's Award
CoCO's Winter Conf. 2004 President's Award
Susan Ragan, Lower Chattahoochee Program
Ombudsman Volunteer of the Year Award
Becky Kurtz & Lisa Schall
Ombudsman Volunteer of the Year Award:
Lisa Schall
This year's recipient was nominated by not one, but 4, people. One of them described her this way: "She has spent many, many hours (many times late into the night) . . . getting to know the residents and their family members. She has been a great advocate for all of the residents, and her background and enthusiasm has made for a great combination in advocating for better care and respect for the residents, as well as helping the residents advocate for themselves."
25 Years Service Award
Miriam Botnick, Atlanta Program Volunteer
20 Years Service Award
Carolyn Hopper, Atlanta Program Volunteer
State Ombudsman Office Presents
Special Initiatives Award
Special Initiatives Award - Stick Your Neck Out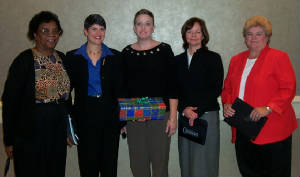 Dorothy Middleton, Becky Kurtz, Wendy Spell, Rachel Hilliard & Shirley Williamson
Special Initiatives ("Stick Your Neck Out") Award:
Heart of Georgia Altamaha LTCO Program
This program has year-after-year performed all of its program requirements diligently – but on top of that, they've worked together as a team to do several initiatives to benefit residents. One of those special projects – and these women have gone out of their way to give the projects the "extra special" touch – are ice cream socials they host for the long-term care residents of their area. Each year, they host 2 events in different parts of their service area where they create a fun activity for the residents, provide education and information, and find ways to honor the residents with flair – and with a good time. This year's Special Initiatives Award goes to Dorothy Middleton, Rachel Hilliard, Shirley Williamson, and Windy Spell of the Heart of Georgia Altamaha Ombudsman Program.
15 Years Service Award
Nancy Hill, Middle Ga. Program
10 Years Service Award
Karen Boyles, Atlanta Program
10 Years Service Award
Roberta Collins, Atlanta Program
10 Years Service Award
Dianne Brookins, Ga. Mountains Program
Certification certificate:
Tessie Davis
Valecia Jackson
Lisa Moore
Vickie Seitman
Anthony Burdette
Lisa Schall
Kathy Gaulin
Jamie Schlosser
Yvonne Slate
State Ombudsman Office Presents
Ombudsman Service Award
Ombudsman Service Award - Rock Solid Ombudsman
Elaine Wilson, Southwest Ga. Program
Ombudsman Service ("Rock Solid") Award:
SOWEGA LTCO Program
This year's recipient is known to most of you to have accomplished many innovative projects – she uses humor to help staff learn about residents' right to have intimate relationships (and her work was featured in this week's Atlanta Journal/Constitution). She uses music – and this year, even the Albany Symphony Orchestra – to promote elder rights. Through her ECLIPSE program, she helps residents share their knowledge and educate children at risk. She frequently takes legislators and Department of Human Resources and Department of Community Health board members to visit residents – and educates them about the needs of residents. She even persuaded US Senator Saxby Chambliss to co-sponsor the Elder Justice Act currently in Congress. She and the staff who work with her – are able to accomplish all of these innovative projects while at the same time meeting or exceeding all the basic program requirements like routine visits, complaint handling, and education. Tis year's Ombudsman Service Award goes to the "Rock Solid" Ombudsman from Southwest Georgia: Elaine Wilson.
5 Years Service Award
Joey Carpenter, Atlanta Program
5 Years Service Award
Ernest Hicks, Central Savannah River Area Program
5 Years Service Award
Ellen Riddle, Southwest Ga. Program
5 Years Service Award
Marcia Berens, Coastal Program